Event Info
Xtreme Outlaw Midget Showdown

May 5, 2023
Humboldt Speedway
1663 Georgia Rd
Humboldt, KS
Series Racing
Xtreme Outlaw Midget Series
To Win Amount
$4,000.00
Feature Laps Length
30
Event Schedule
6:30PM Drivers Meeting
7PM Motor Heat
7:30PM Xtreme Outlaw Midgets Hot Laps
USAC Midwest Wingless sprint Hot Laps
Xtreme Outlaw Midgets Group Qualifying - Split Groups - 2 laps
Factory Stocks Hot Laps
Opening Ceremonies
Xtreme Outlaw Midgets Heats (8 Laps)
USAC Midwest Wingless Sprint Heats (8 Laps)
Factory Stocks Heats (8 Laps)
Xtreme Outlaw Midgets Invert Draw
Xtreme Outlaw Midgets Last Chance Showdowns (10 Laps) - If Needed
USAC Midwest Wingless Sprints Last Chance Showdown (12 Laps) If Needed
Factory Stocks Last Chance Showdown (10 Laps) If Needed
Xtreme Outlaw Midgets Feature (30 Laps)
USAC Midwest Wingless Sprints Feature (25 Laps)
Factory Stock Feature (15 Laps)
*All times Central
Frequently Asked Questions
Track Info
Track Phone
(620) 473-3694
Track Size & Type
0.25; high banked, clay oval
Competitor Info
Competitor Downloads
https://www.dirtcarmembers.com/downloads.php
Competitor Info
Tire Rule:
Hoosier tires on all 4 corners.
LR must be D12 or harder.
RR MUST be (SP3 Only)
(Grooving and Siping is Allowed)
Teams can have (1) new and (2) used tires marked before Drivers meeting.
Race Recap
McDermand Drives by Torgerson at Humboldt for Second Career Xtreme Midget Feature Win
To win, Chase McDermand was going to have to drive around the fastest car on the racetrack. He'd tried once before and failed, but with the laps winding down and his patience wearing thin, he knew it was time to pull out his best move.
A slide-job maneuver in Turns 1-2 on Lap 22 was exactly what McDermand was looking for in his pursuit of race-long leader Ashton Torgerson. McDermand pitched the car hard to the left getting into Turn 1 on the bottom and stomped the throttle, drifting up into Torgerson's lane to take the position.
A smooth line around the bottom groove in Turns 3-4 sealed the pass for McDermand, and from there on out, it was his race to lose. Torgerson faded back to third while Cannon McIntosh did all he could to reel-in the leader in the final laps, but McDermand was too fast out front as he crossed the stripe to bag the Xtreme Outlaw Midget Series presented by Toyota Feature win Friday night at Humboldt Speedway.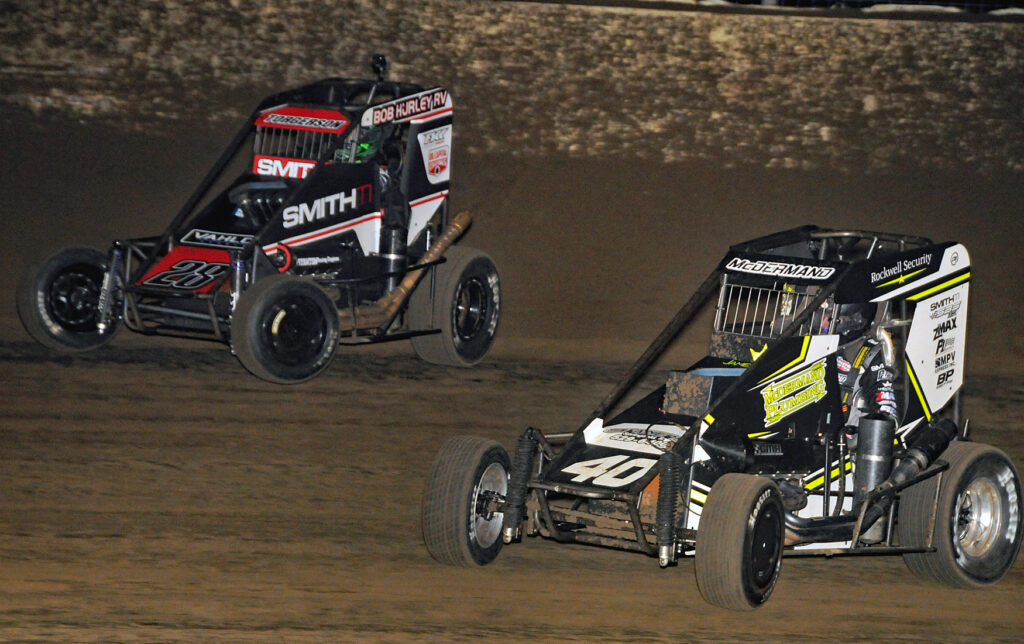 "The last restart, I was watching [Tanner] Thorson and seeing what he was telling [Torgerson] to do," McDermand, 22, of Springfield, IL, said. "I just figured he was going to try and block my line or something and he didn't, so I just kept making sure I hit my marks.
"I was able to move a little closer every lap [after] the last restart, and we pulled it off."
Torgerson, 16, of Glendale, AZ, was aboard the Tanner Thorson Racing #28 in his Xtreme Outlaw Series debut, back at the controls of a Midget for the first time since suffering injury at the Chili Bowl Nationals in January. He led the first 21 circuits of the race from the outside pole and had yet to be seriously challenged for the lead until McDermand came knocking.
"Ran the top pretty much the entire race and felt good up there, then McDermand showed me a line down there," Torgerson said. "We were racing off of four, side-by-side; I should've moved down and took the lane."
After several cautions and two red-flag periods, the race's final restart took the green on Lap 19 with Torgerson holding strong out front. That's when McDermand decided to pull the trigger, using his inside lane speed to his advantage and made the move for the lead.
But in getting to the position to be able to contend for the lead, McDermand had some prior work to take care of. He rolled off the starting grid P5 and did not initially like how his car was handling, so a few in-car shock adjustments were needed.
"I'm really glad we did have those red flags and the yellows," McDermand said. "I got to think about exactly what the changes I was making were going to do to the car under the red. Under the yellows, it just gave me some opportunities to just play with it a bit more and fine-tune it."
Once the car came in how he wanted it, McDermand was hooked-up. He took the lead with eight laps left and proceeded to drive away from the second-place, which by five-to-go, McIntosh had fought his way into from ninth on the starting grid.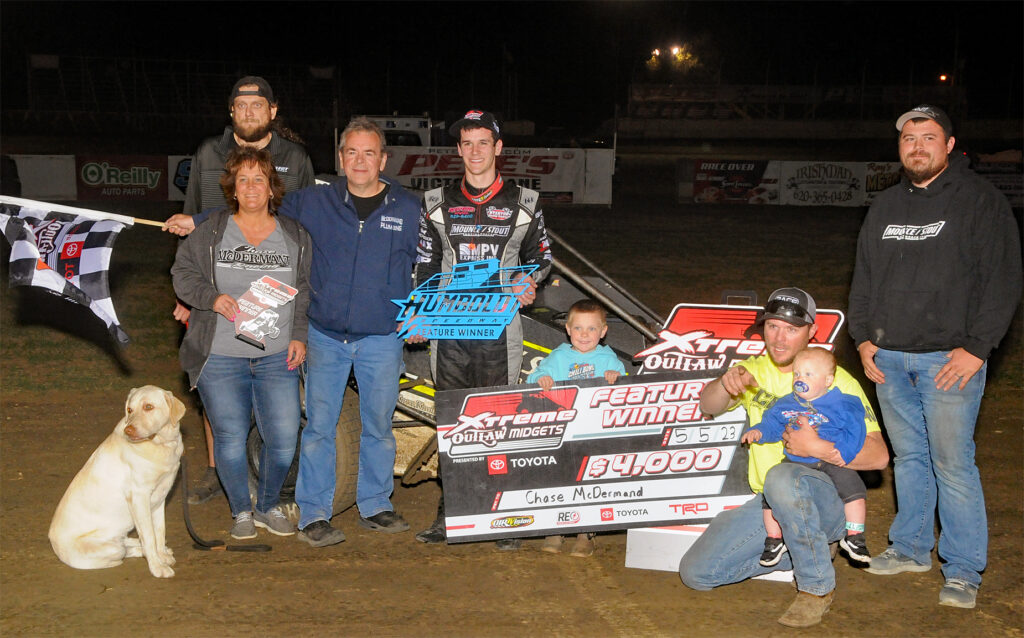 "I was able to make a lot of ground on restarts and just carry more speed than other guys on the start," McIntosh said. "Once we got going, we were pretty good; I think McDermand was just a little better than us, overall."
Torgerson completed the podium, while Thomas Meseraull got back into the Xtreme Outlaw top-five with a fourth-place run from 12th on the grid. Daniel Whitley put the Abacus Racing #58 across the stripe in fifth for his first career Xtreme Outlaw top-five.
UP NEXT
The Xtreme Outlaw Midgets are back in action Saturday night, May 6, for another $4,000-to-win program at Humboldt's sister track – 81 Speedway in Park City, KS. Tickets will be on sale at the gate. If you can't make it to the track to watch, stream all the action live on DIRTVision.
ABBREVIATED RESULTS
Feature (30 Laps): 1. 40-Chase McDermand[5]; 2. 08-Cannon McIntosh[9]; 3. 28-Ashton Torgerson[2]; 4. 7X-Thomas Meseraull[12]; 5. 58-Daniel Whitley[7]; 6. 71-Jade Avedisian[3]; 7. 97-Gavin Miller[8]; 8. 5D-Zach Daum[18]; 9. 26-Chance Crum[4]; 10. 22T-Don Droud Jr[15]; 11. 25K-Taylor Reimer[17]; 12. 59-Laci Ferno[21]; 13. 07-Scout Spraggins[20]; 14. 7W-Brendon Wiseley[16]; 15. 7U-Kyle Jones[14]; 16. 91S-Jeff Stasa[10]; 17. 2X-Landon Brooks[1]; 18. 19AZ-Hayden Reinbold[13]; 19. 21E-Emilio Hoover[11]; 20. 91-Lance Bennett[19]; 21. 19M-Ethan Mitchell[6]; 22. (DNS) 17X-Kurt Stellhorn
[Read More]
Results
Last Chance Showdown Results
Heat 1 Results
| Pos. | Start | +/- | # | Driver | Hometown | Difference | Points |
| --- | --- | --- | --- | --- | --- | --- | --- |
| 1 | 2 | +1 | 26 | Chance Crum | Snohomish, WA | 0.000 | 0 |
| 2 | 4 | +2 | 28 | Ashton Torgerson | Glendale, AZ | -0.304 | 0 |
| 3 | 1 | -2 | 91S | Jeff Stasa | Kingman, KS | -2.069 | 0 |
| 4 | 5 | +1 | 7X | Thomas Meseraull | San Jose, CA | -2.791 | 0 |
| 5 | 6 | +1 | 7W | Brendon Wiseley | Sand Springs, OK | -3.498 | 0 |
| 6 | 3 | -3 | 19AZ | Hayden Reinbold | Chandler, AZ | -4.055 | 0 |
| 7 | 9 | +2 | 5D | Zach Daum | Pocahontas, IL | -5.919 | 0 |
| 8 | 8 | 0 | 52J | Corey Joyner | Concordia, KS | -6.010 | 0 |
| 9 | 7 | -2 | 70 | Cade Cowles | Bixby, OK | -9.712 | 0 |
Heat 2 Results
| Pos. | Start | +/- | # | Driver | Hometown | Difference | Points |
| --- | --- | --- | --- | --- | --- | --- | --- |
| 1 | 2 | +1 | 71 | Jade Avedisian | Clovis, CA | 0.000 | 0 |
| 2 | 3 | +1 | 40 | Chase McDermand | Springfield, IL | -0.318 | 0 |
| 3 | 6 | +3 | 08 | Cannon McIntosh | Bixby, OK | -1.249 | 0 |
| 4 | 4 | 0 | 97 | Gavin Miller | Allentown, PA | -1.919 | 0 |
| 5 | 5 | 0 | 7U | Kyle Jones | Kennedale, TX | -2.844 | 0 |
| 6 | 1 | -5 | 25K | Taylor Reimer | Tulsa, OK | -3.261 | 0 |
| 7 | 7 | 0 | 07 | Scout Spraggins | Cache, OK | -6.181 | 0 |
| 8 | 8 | 0 | 59 | Laci Ferno | Mooresville, NC | -8.364 | 0 |
Heat 3 Results
| Pos. | Start | +/- | # | Driver | Hometown | Difference | Points |
| --- | --- | --- | --- | --- | --- | --- | --- |
| 1 | 1 | 0 | 19M | Ethan Mitchell | Mooresville, NC | 0.000 | 0 |
| 2 | 4 | +2 | 2X | Landon Brooks | Yuba City, CA | -0.259 | 0 |
| 3 | 3 | 0 | 58 | Daniel Whitley | Ferndale, CA | -1.244 | 0 |
| 4 | 2 | -2 | 21E | Emilio Hoover | Broken Arrow, OK | -1.426 | 0 |
| 5 | 5 | 0 | 22T | Don Droud Jr | Lincoln, NE | -3.985 | 0 |
| 6 | 6 | 0 | 91 | Lance Bennett | Aurora, CO | -5.049 | 0 |
| 7 | 7 | 0 | 17X | Kurt Stellhorn | Baldwin, IL | -11.205 | 0 |
| 8 | 8 | 0 | 1H | Henry Chambers | Baldwin City, KS | -11.315 | 0 |
Qualifying Flight 1 Results
| POS | Start | Car | Driver | Time | Difference | Points |
| --- | --- | --- | --- | --- | --- | --- |
| 1 | 5 | 28 | Ashton Torgerson | 14.124 | 0.000 | 0 |
| 2 | 2 | 19AZ | Hayden Reinbold | 14.334 | -0.210 | 0 |
| 3 | 7 | 26 | Chance Crum | 14.396 | -0.272 | 0 |
| 4 | 4 | 91S | Jeff Stasa | 14.494 | -0.370 | 0 |
| 5 | 8 | 7X | Thomas Meseraull | 14.633 | -0.509 | 0 |
| 6 | 3 | 7W | Brendon Wiseley | 14.705 | -0.581 | 0 |
| 7 | 6 | 70 | Cade Cowles | 14.757 | -0.633 | 0 |
| 8 | 1 | 52J | Corey Joyner | 14.941 | -0.817 | 0 |
| 9 | 9 | 5D | Zach Daum | 14.941 | -0.817 | 0 |
Qualifying Flight 2 Results
| POS | Start | Car | Driver | Time | Difference | Points |
| --- | --- | --- | --- | --- | --- | --- |
| 1 | 6 | 97 | Gavin Miller | 13.717 | 0.000 | 0 |
| 2 | 3 | 40 | Chase McDermand | 13.847 | -0.130 | 0 |
| 3 | 1 | 71 | Jade Avedisian | 13.925 | -0.208 | 0 |
| 4 | 7 | 25K | Taylor Reimer | 14.026 | -0.309 | 0 |
| 5 | 4 | 7U | Kyle Jones | 14.030 | -0.313 | 0 |
| 6 | 8 | 08 | Cannon McIntosh | 14.037 | -0.320 | 0 |
| 7 | 5 | 07 | Scout Spraggins | 14.264 | -0.547 | 0 |
| 8 | 2 | 59 | Laci Ferno | 14.463 | -0.746 | 0 |
Qualifying Flight 3 Results
| POS | Start | Car | Driver | Time | Difference | Points |
| --- | --- | --- | --- | --- | --- | --- |
| 1 | 4 | 2X | Landon Brooks | 14.040 | 0.000 | 0 |
| 2 | 2 | 58 | Daniel Whitley | 14.134 | -0.094 | 0 |
| 3 | 8 | 21E | Emilio Hoover | 14.238 | -0.198 | 0 |
| 4 | 6 | 19M | Ethan Mitchell | 14.331 | -0.291 | 0 |
| 5 | 3 | 22T | Don Droud Jr | 14.477 | -0.437 | 0 |
| 6 | 1 | 91 | Lance Bennett | 14.528 | -0.488 | 0 |
| 7 | 5 | 17X | Kurt Stellhorn | 14.727 | -0.687 | 0 |
| 8 | 7 | 1H | Henry Chambers | 15.355 | -1.315 | 0 |
Hot Laps Results
| POS | Start | Car | Driver | Time | Difference | Points |
| --- | --- | --- | --- | --- | --- | --- |
| 1 | 5 | 28 | Ashton Torgerson | 15.659 | 0.000 | 0 |
| 2 | 8 | 7X | Thomas Meseraull | 15.995 | -0.336 | 0 |
| 3 | 7 | 26 | Chance Crum | 16.086 | -0.427 | 0 |
| 4 | 1 | 52J | Corey Joyner | 16.427 | -0.768 | 0 |
| 5 | 6 | 70 | Cade Cowles | 16.549 | -0.890 | 0 |
| 6 | 2 | 19AZ | Hayden Reinbold | 16.615 | -0.956 | 0 |
| 7 | 3 | 7W | Brendon Wiseley | 16.736 | -1.077 | 0 |
| 8 | 4 | 91S | Jeff Stasa | 16.844 | -1.185 | 0 |
| 9 | 9 | 5D | Zach Daum | 17.065 | -1.406 | 0 |
Hot Laps 2 Results
| POS | Start | Car | Driver | Time | Difference | Points |
| --- | --- | --- | --- | --- | --- | --- |
| 1 | 3 | 40 | Chase McDermand | 14.858 | 0.000 | 0 |
| 2 | 4 | 7U | Kyle Jones | 14.940 | -0.082 | 0 |
| 3 | 6 | 97 | Gavin Miller | 15.091 | -0.233 | 0 |
| 4 | 1 | 71 | Jade Avedisian | 15.105 | -0.247 | 0 |
| 5 | 7 | 25K | Taylor Reimer | 15.162 | -0.304 | 0 |
| 6 | 8 | 08 | Cannon McIntosh | 15.186 | -0.328 | 0 |
| 7 | 5 | 07 | Scout Spraggins | 15.593 | -0.735 | 0 |
| 8 | 2 | 59 | Laci Ferno | 15.676 | -0.818 | 0 |
Hot Laps 3 Results
| POS | Start | Car | Driver | Time | Difference | Points |
| --- | --- | --- | --- | --- | --- | --- |
| 1 | 4 | 2X | Landon Brooks | 14.388 | 0.000 | 0 |
| 2 | 2 | 58 | Daniel Whitley | 14.612 | -0.224 | 0 |
| 3 | 8 | 21E | Emilio Hoover | 14.784 | -0.396 | 0 |
| 4 | 6 | 19M | Ethan Mitchell | 15.006 | -0.618 | 0 |
| 5 | 1 | 91 | Lance Bennett | 15.315 | -0.927 | 0 |
| 6 | 5 | 17X | Kurt Stellhorn | 15.512 | -1.124 | 0 |
| 7 | 3 | 22T | Don Droud Jr | 16.125 | -1.737 | 0 |
| 8 | 7 | 1H | Henry Chambers | 16.923 | -2.535 | 0 |