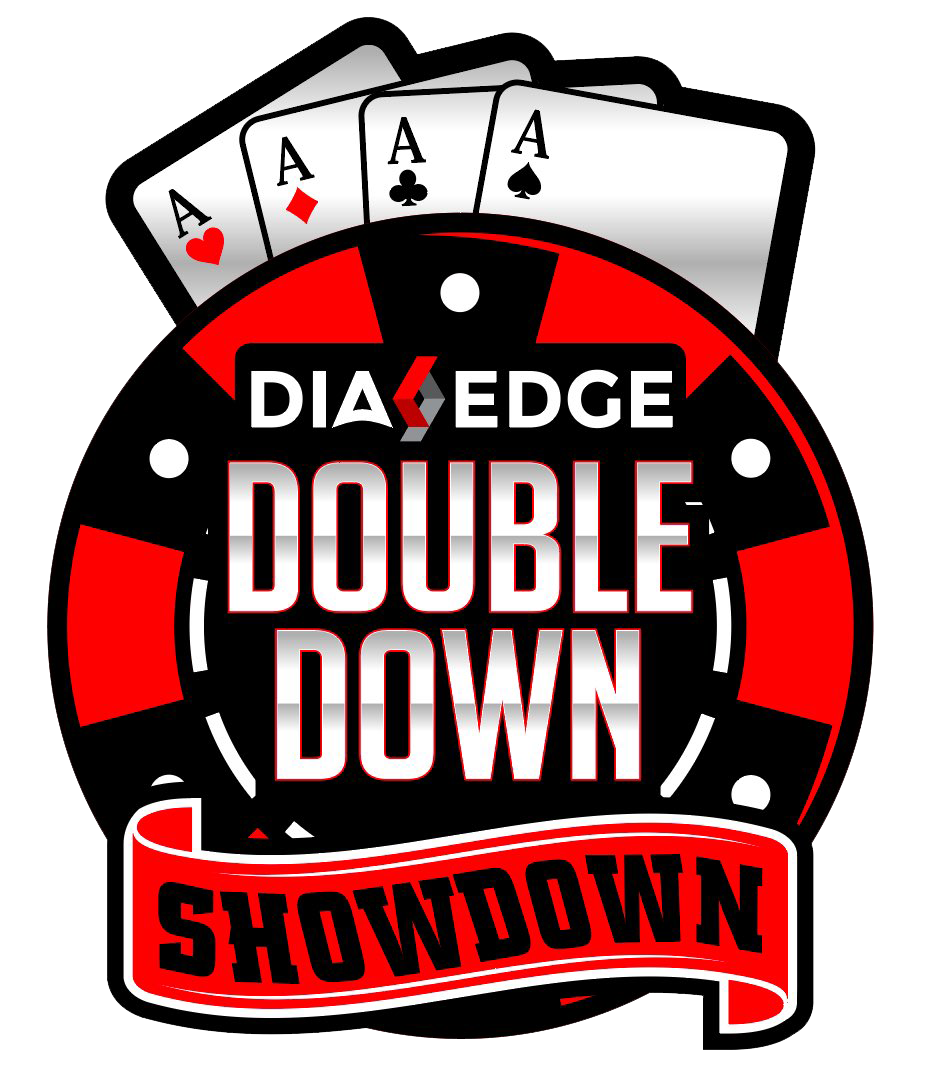 DIAEDGE Double Down Showdown
Tuesday, May 23, 2023
Winner: Cannon McIntosh 2nd: Gavin Miller 3rd: Chase McDermand
Event Info
DIAEDGE Double Down Showdown

May 23, 2023 to May 24, 2023
Millbridge Speedway
6670 Mooresville Rd
Salisbury, NC
Event Description
Our future racing stars battle on the 1/6-mile bullring at Millbridge Speedway.
Series Racing
Xtreme Outlaw Midget Series
To Win Amount
$4,000.00
Feature Laps Length
30
Event Schedule
Tuesday & Wednesday, May 23-24, 2023
3PM Driver Registration
5:15PM Driver Meeting
5:45PM Motor Heat
6PM Non Wing 600 Micro Sprint Hot Laps
Non Wing 600 Micro Sprint Qualifying
Xtreme Outlaw Midget Hot Laps
Xtreme Outlaw Midget Group Qualifying - Split Groups - 2 Laps
Opening Cremonies
Xtreme Outlaw Midget Heats - 10 Laps
Non Wing 600 Micro Sprint Heats - 8 Laps
Xtreme Outlaw Midget Invert Draw
Xtreme Outlaw Midget Last Chance Showdowns - 12 Laps
Non Wing 600 Micro Sprint Feature - 25 Laps
Xtreme Outlaw Midget Feature - 30 Laps (Tuesday), 35 Laps (Wednesday)
*Times subject to change*
*All times Eastern
Frequently Asked Questions
Track Info
Track Phone
(704) 701-1665
Competitor Info
Competitor Downloads
https://www.dirtcarmembers.com/downloads.php
Competitor Info
Tire Rule:
Hoosier tires on all 4 corners.
LR must be D12 or harder.
RR MUST be (SP3 Only)
(Grooving and Siping is Allowed)
Teams can have (1) new and (2) used tires marked before Drivers meeting.
Race Recap
MILLBRIDGE MASTERY: McIntosh Wins Night 1 of DIAEDGE Double Down Showdown
Tuesday night turned into a house party for Cannon McIntosh.
The house: Millbridge Speedway. The party: his third win of the season with the Xtreme Outlaw Midget Series presented Toyota.
The Oklahoma native moved to Mooresville, NC in the off season and made Millbridge a new home for racing – helping build a Micro Sprint team with his dad and winning weekly shows at the 1/6-mile track himself.
On Tuesday night, he scored his biggest win yet at the track during the first night of the DIAEDGE Double Down Showdown with the Xtreme Outlaw Midgets – accompanied by a $4,000 payday.
"It was nice to come back here and do what we know how to do and put this thing back in Victory Lane," McIntosh said. "This thing was lights out all night. I felt pretty confident in what I was doing on the track. All the pieces came together and we were able to win."
McIntosh was never shy about his speed all night, running the fastest time in his Hot Lap group, running the fastest time in his Qualifying group and winning the TJ Forged Heat Race. That placed him as the second highest points earner behind Hayden Reinbold, who scored the Whitz Quick Time Award and also won his Heat Race.
However, with Reinbold drawing the number six pill in the invert draw that placed Chase McDermand – who won the last two Xtreme Outlaw Midget shows – on the pole and McIntosh in fifth for the 30-lap Feature.
When the main event commenced, outside polesitter Gavin Miller, looking for his first career national Midget win, rocketed around the outside of McDermand to take the lead on the first lap.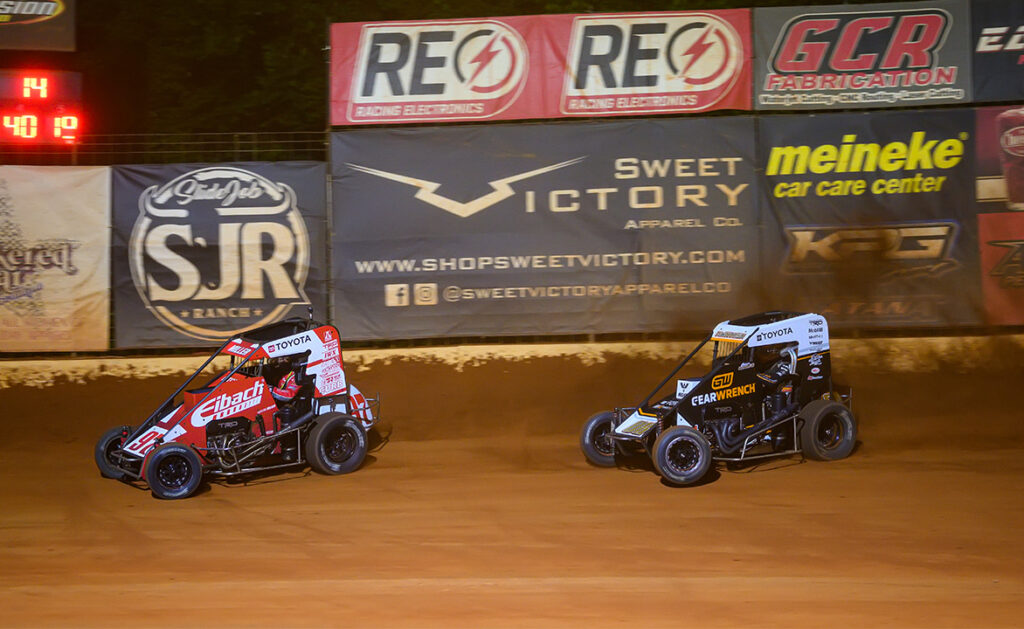 While McDermand tried to hunt him back down, McIntosh was already on the move behind them, up to third by Lap 4. Two laps later, up to second past McDermand.
He wasn't the only one on a climb too. After fading in the first two laps, Jade Avedisian was climbing her way up through the field, getting back to third by Lap 9 and looking to spoil McIntosh's appetite for the win, which eluded him last year.
Miller, McIntosh and Avedisian waged a war for the lead by the halfway point, trading slide jobs like it was a choreographed dance. McIntosh ended up having the better footing, winning the battle with a slider through the middle of Turns 1 and 2.
With the lead in hand, McIntosh stayed glued to the top and let the party rage on behind him. And while he had already won the war for the lead, Miller and Avedisian kept it going for second. The close racing between the two Keith Kunz Motorsports drivers resulted in contact in Turn 3, sending Avedisian into the wall and collecting six other cars with her. She was able to continue and rally back for a ninth-place finish.
With 10 laps to go, McIntosh worked on making qualifying laps out of each one. When the white flag hit the air, he had a straightaway lead on Miller. Then, a caution.
Green-white-checked finish.
Miller pushed his #97 Toyota-power car as hard as he could in the final two laps, looking underneath McIntosh in the final corner, but the GEARWRENCH #08 car for Dave Mac Dalby Motorsports was perfect around the top and sprinted with ease to the checkered flag first.
"I couldn't see behind me, but I felt like we had a really good car," McIntosh said. "I felt confident every lap, so I knew if I just hit my marks, we'd be fine. Don't know how close [Miller] was behind us but felt really good. It was about as good as you could ask for in a car and try to go back and do the same thing tomorrow."
While Miller had to settle for second, it was his third straight top-10 finish and second straight podium with the Series – in his first start at the North Carolina track.
"I struggled off exit," Miller said. "I just needed to be up a little higher. Cannon could get through a little better than we could, but we'll figure it out."
McDermand finished third, ending his winning streak, but still satisfied as it was also his first time at Millbridge.
"Really just needed to get off the corner better, needed more forward drive there," McDermand said. "Once the track progressed throughout the race, I fell off a little bit. Just struggled to get off the corner."
Rounding out the top five were Briggs Danner in fourth and Mariah Ede in fifth – career best finishes for both and their first top five with the Series. Gavan Boschele, the inaugural Xtreme Outlaw Midget Series presented by Toyota winner, was the DIRTVision Hard Charger, going from 20th to sixth.
McIntosh's house party brought him his fourth career Xtreme Outlaw Midget Series win – now the winningest drive with the Series – and added 40 points to his lead in the championship standings over Avedisian (-71).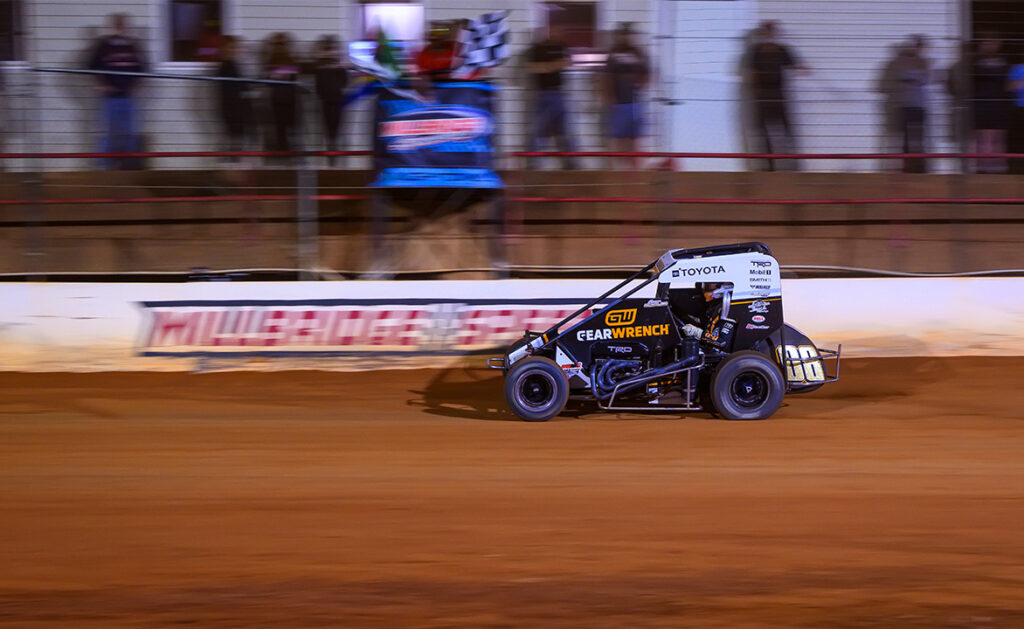 UP NEXT: The Xtreme Outlaw Midget Series presented by Toyota returns to Millbridge, Wednesday, May 24, for the final night of the DIAEDGE Double Down Showdown. Tickets are available at the gate, or you can watch the race live on DIRTVision.
RESULTS
Feature (31 Laps): 1. 08-Cannon McIntosh[5]; 2. 97-Gavin Miller[2]; 3. 40-Chase McDermand[1]; 4. 98-Briggs Danner[7]; 5. 71E-Mariah Ede[12]; 6. 5G-Gavan Boschele[20]; 7. 26-Chance Crum[18]; 8. 67-Ryan Timms[17]; 9. 71-Jade Avedisian[3]; 10. 7U-Kyle Jones[15]; 11. 11X-Brent Crews[10]; 12. 17B-Austin Barnhill[13]; 13. 55-Trevor Cline[19]; 14. 25K-Taylor Reimer[8]; 15. 5D-Zach Daum[11]; 16. 97K-Carson Hocevar[14]; 17. 19M-Ethan Mitchell[9]; 18. 19AZ-Hayden Reinbold[6]; 19. 55D-Nick Drake[4]; 20. 2X-Landon Brooks[16]
[Read More]
Results
Last Chance Showdown Results
Heat 1 Results
| Pos. | Start | +/- | # | Driver | Hometown | Difference | Points |
| --- | --- | --- | --- | --- | --- | --- | --- |
| 1 | 5 | +4 | 55D | Nick Drake | Mooresville, NC | 0.000 | 24 |
| 2 | 1 | -1 | 19M | Ethan Mitchell | Mooresville, NC | -0.434 | 18 |
| 3 | 4 | +1 | 71 | Jade Avedisian | Clovis, CA | -0.704 | 17 |
| 4 | 3 | -1 | 11X | Brent Crews | Denver, NC | -1.117 | 14 |
| 5 | 7 | +2 | 2X | Landon Brooks | Yuba City, CA | -1.644 | 14 |
| 6 | 6 | 0 | 5G | Gavan Boschele | Mooresville, NC | -1.991 | 10 |
| 7 | 2 | -5 | 55 | Trevor Cline | Mooresville, NC | -3 Laps | 8 |
| 8 | 8 | 0 | 5B | Chase Briscoe | Mitchell, IN | -10 Laps | 6 |
Heat 2 Results
| Pos. | Start | +/- | # | Driver | Hometown | Difference | Points |
| --- | --- | --- | --- | --- | --- | --- | --- |
| 1 | 4 | +3 | 08 | Cannon McIntosh | Bixby, OK | 0.000 | 23 |
| 2 | 2 | 0 | 40 | Chase McDermand | Springfield, IL | -0.200 | 18 |
| 3 | 3 | 0 | 25K | Taylor Reimer | Tulsa, OK | -1.597 | 16 |
| 4 | 5 | +1 | 5D | Zach Daum | Pocahontas, IL | -1.807 | 15 |
| 5 | 7 | +2 | 17B | Austin Barnhill | Wilmington, NC | -2.096 | 14 |
| 6 | 6 | 0 | 7U | Kyle Jones | Kennedale, TX | -2.171 | 10 |
| 7 | 1 | -6 | 26 | Chance Crum | Snohomish, WA | -2.499 | 8 |
| 8 | 8 | 0 | 5LK | Kyle Strickler | Mooresville, NC | -3.032 | 6 |
Heat 3 Results
| Pos. | Start | +/- | # | Driver | Hometown | Difference | Points |
| --- | --- | --- | --- | --- | --- | --- | --- |
| 1 | 4 | +3 | 19AZ | Hayden Reinbold | Chandler, AZ | 0.000 | 23 |
| 2 | 2 | 0 | 97 | Gavin Miller | Allentown, PA | 0.000 | 18 |
| 3 | 3 | 0 | 98 | Briggs Danner | Allentown, PA | 0.000 | 16 |
| 4 | 6 | +2 | 71E | Mariah Ede | Fresno, CA | 0.000 | 16 |
| 5 | 8 | +3 | 97K | Carson Hocevar | Portage, MI | 0.000 | 15 |
| 6 | 7 | +1 | 60X | Hunter Kohn | Mooresville, NC | -1 Laps | 11 |
| 7 | 5 | -2 | 67 | Ryan Timms | Oklahoma City, OK | -1 Laps | 8 |
| 8 | 1 | -7 | 71M | Jake Andreotti | Castro Valley, CA | -1 Laps | 6 |
Qualifying Flight 1 Results
| POS | Start | Car | Driver | Time | Difference | Points |
| --- | --- | --- | --- | --- | --- | --- |
| 1 | 5 | 71 | Jade Avedisian | 10.025 | 0.000 | 10 |
| 2 | 7 | 11X | Brent Crews | 10.181 | -0.156 | 9 |
| 3 | 3 | 55 | Trevor Cline | 10.222 | -0.197 | 8 |
| 4 | 2 | 19M | Ethan Mitchell | 10.239 | -0.214 | 7 |
| 5 | 1 | 55D | Nick Drake | 10.281 | -0.256 | 6 |
| 6 | 6 | 5G | Gavan Boschele | 10.287 | -0.262 | 5 |
| 7 | 4 | 2X | Landon Brooks | 10.567 | -0.542 | 4 |
| 8 | 8 | 5B | Chase Briscoe | 10.567 | -0.542 | 3 |
Qualifying Flight 2 Results
| POS | Start | Car | Driver | Time | Difference | Points |
| --- | --- | --- | --- | --- | --- | --- |
| 1 | 6 | 08 | Cannon McIntosh | 9.906 | 0.000 | 10 |
| 2 | 2 | 25K | Taylor Reimer | 10.164 | -0.258 | 9 |
| 3 | 3 | 40 | Chase McDermand | 10.233 | -0.327 | 8 |
| 4 | 8 | 26 | Chance Crum | 10.248 | -0.342 | 7 |
| 5 | 5 | 5D | Zach Daum | 10.372 | -0.466 | 6 |
| 6 | 1 | 7U | Kyle Jones | 10.387 | -0.481 | 5 |
| 7 | 7 | 17B | Austin Barnhill | 10.440 | -0.534 | 4 |
| 8 | 4 | 5LK | Kyle Strickler | 10.775 | -0.869 | 3 |
Qualifying Flight 3 Results
| POS | Start | Car | Driver | Time | Difference | Points |
| --- | --- | --- | --- | --- | --- | --- |
| 1 | 2 | 19AZ | Hayden Reinbold | 9.826 | 0.000 | 10 |
| 2 | 7 | 98 | Briggs Danner | 10.159 | -0.333 | 9 |
| 3 | 6 | 97 | Gavin Miller | 10.179 | -0.353 | 8 |
| 4 | 8 | 71M | Jake Andreotti | 10.298 | -0.472 | 7 |
| 5 | 1 | 67 | Ryan Timms | 10.322 | -0.496 | 6 |
| 6 | 4 | 71E | Mariah Ede | 10.430 | -0.604 | 5 |
| 7 | 3 | 60X | Hunter Kohn | 10.472 | -0.646 | 4 |
| 8 | 5 | 97K | Carson Hocevar | 10.473 | -0.647 | 3 |
Hot Laps Results
| POS | Start | Car | Driver | Time | Difference | Points |
| --- | --- | --- | --- | --- | --- | --- |
| 1 | 5 | 71 | Jade Avedisian | 10.109 | 0.000 | 0 |
| 2 | 4 | 2X | Landon Brooks | 10.172 | -0.063 | 0 |
| 3 | 6 | 5G | Gavan Boschele | 10.308 | -0.199 | 0 |
| 4 | 1 | 55D | Nick Drake | 10.309 | -0.200 | 0 |
| 5 | 2 | 19M | Ethan Mitchell | 10.326 | -0.217 | 0 |
| 6 | 8 | 5B | Chase Briscoe | 10.350 | -0.241 | 0 |
| 7 | 3 | 55 | Trevor Cline | 10.370 | -0.261 | 0 |
| 8 | 7 | 11X | Brent Crews | 10.406 | -0.297 | 0 |
Hot Laps 2 Results
| POS | Start | Car | Driver | Time | Difference | Points |
| --- | --- | --- | --- | --- | --- | --- |
| 1 | 6 | 08 | Cannon McIntosh | 10.083 | 0.000 | 0 |
| 2 | 2 | 25K | Taylor Reimer | 10.115 | -0.032 | 0 |
| 3 | 1 | 7U | Kyle Jones | 10.377 | -0.294 | 0 |
| 4 | 3 | 40 | Chase McDermand | 10.449 | -0.366 | 0 |
| 5 | 5 | 5D | Zach Daum | 10.450 | -0.367 | 0 |
| 6 | 7 | 17B | Austin Barnhill | 10.509 | -0.426 | 0 |
| 7 | 8 | 26 | Chance Crum | 10.533 | -0.450 | 0 |
| 8 | 4 | 5LK | Kyle Strickler | 11.125 | -1.042 | 0 |
Hot Laps 3 Results
| POS | Start | Car | Driver | Time | Difference | Points |
| --- | --- | --- | --- | --- | --- | --- |
| 1 | 6 | 97 | Gavin Miller | 10.244 | 0.000 | 0 |
| 2 | 1 | 67 | Ryan Timms | 10.249 | -0.005 | 0 |
| 3 | 2 | 19AZ | Hayden Reinbold | 10.342 | -0.098 | 0 |
| 4 | 7 | 98 | Briggs Danner | 10.478 | -0.234 | 0 |
| 5 | 8 | 71M | Jake Andreotti | 10.499 | -0.255 | 0 |
| 6 | 3 | 60X | Hunter Kohn | 10.518 | -0.274 | 0 |
| 7 | 4 | 71E | Mariah Ede | 10.542 | -0.298 | 0 |
| 8 | 5 | 97K | Carson Hocevar | 10.837 | -0.593 | 0 |